Purchase Guide
This document aims to support Microsoft Learning Partners who are interested in buying hands-on labs for Microsoft Official Courseware. CloudLabs is an authorized provider of hands-on labs for Microsoft courses.
CloudLabs offers Azure Pass-based labs for eligible courses. For all other Microsoft courses and custom labs, commercial Azure-based labs are available. You can check out the CloudLabs Catalogue to explore the available labs and their costs.
Step-1 Get Access to CloudLabs Admin Center​
CloudLabs Admin Center is the go-to platform to place orders for Microsoft labs & Azure Pass, assign instructor access, and manage the lab lifecycle. As a Microsoft Learning Partner, you can request access to the Admin Center by following the steps below:
Click on Request Access to Place Orders.

Provide the requested information:

Company Name: Your Organization Name (As per Microsoft Records)
Email Address: The email address where you would like to receive information and access.
MPN ID: Your active MPN ID.
Country: The country where you intend to use the labs.

After submitting your request, your access will be enabled within 24 hours, subject to validation of your MPN ID/Company Name with the Microsoft Learning Partner database. If you have any questions, please feel free to contact our sales support team at psm-cloudlabs@spektrasystems.com.
Step-2 Submit your Lab Request​
1.Navigate to CloudLabs Admin Portal https://admin.cloudlabs.ai/ and Click on Log In button.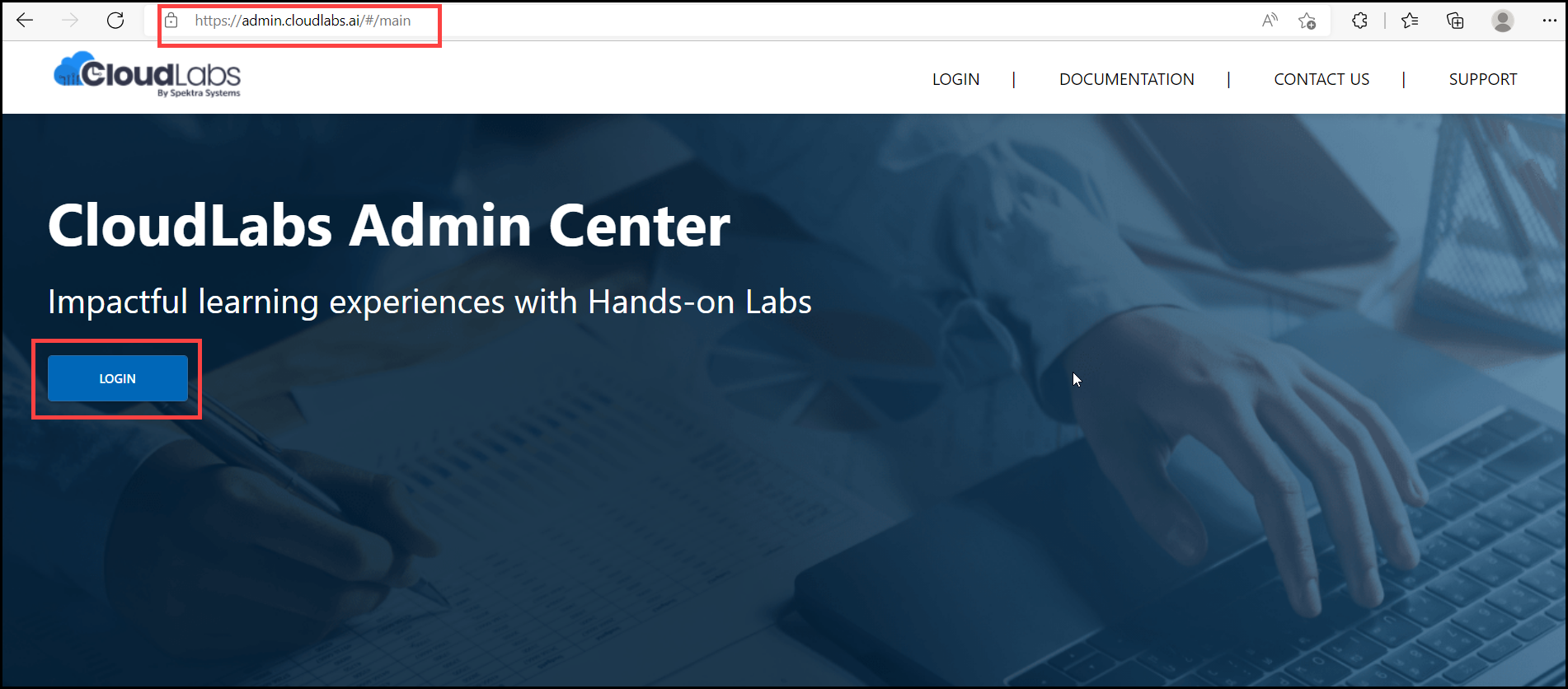 2.You will have these Login Options: Azure Active Directory, LinkedIn & Google. You can login via any SSO provider with the email address you requested access for. If you do not have an account with any of these providers, please get in touch with us at labs-support@spektrasystems.com for custom login.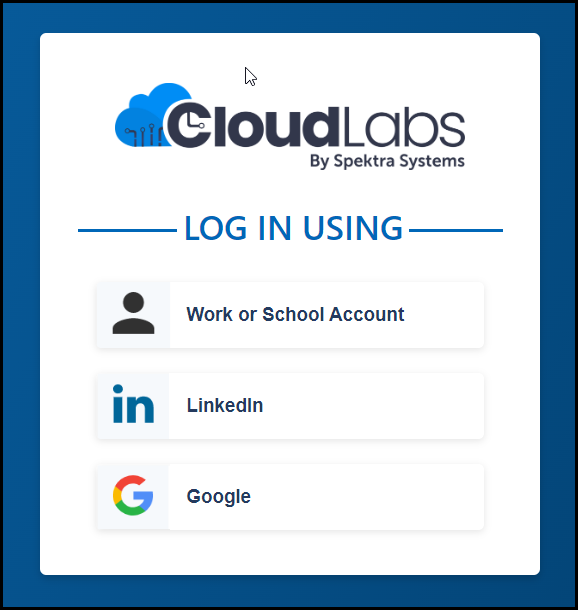 3.Once you are connected to Microsoft Learning Partner. Click on the Add button to create a new Lab request.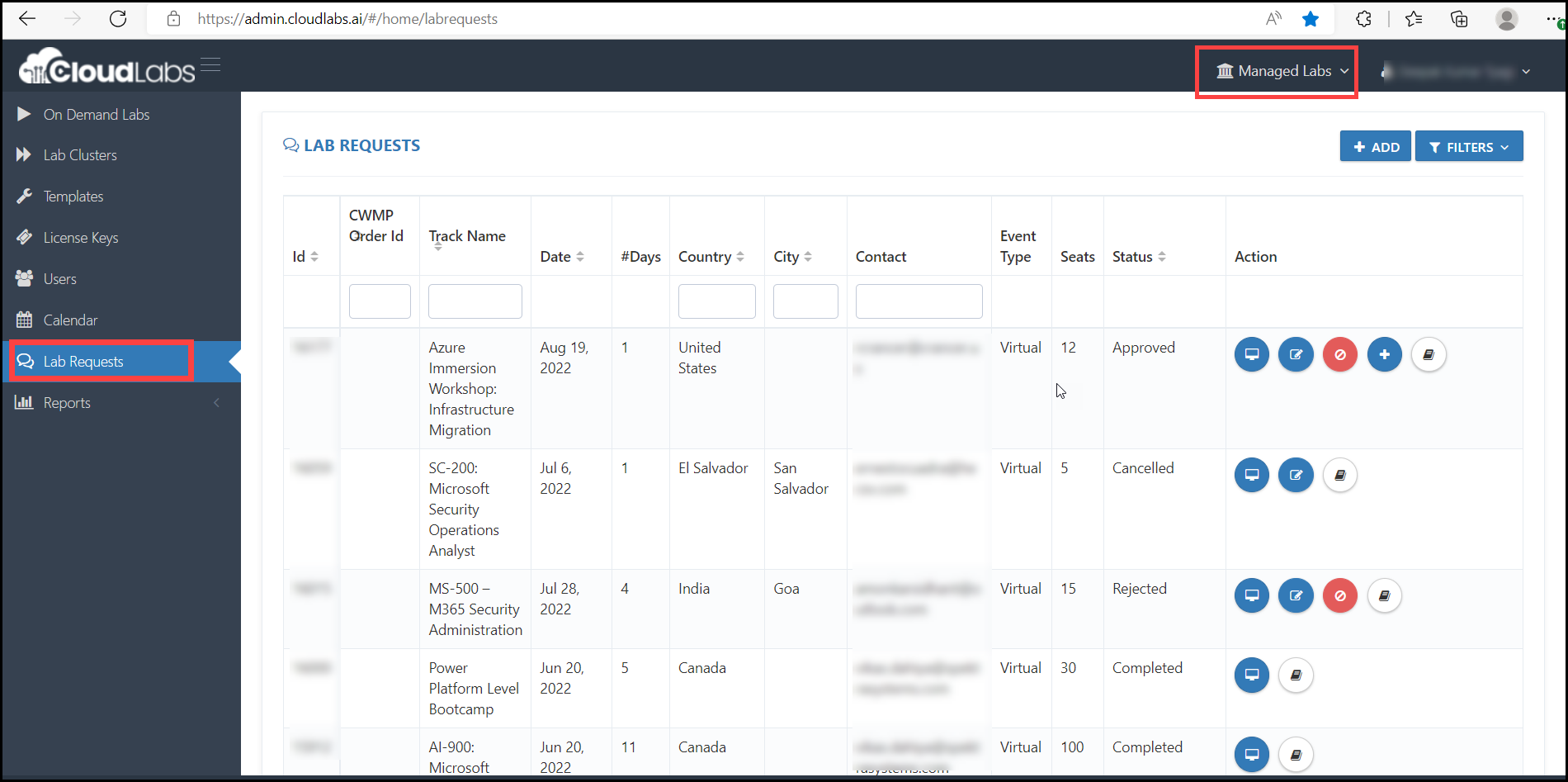 4.Fill out the lab request information:
i. Track: Select the track for your training. E.g. AZ-900,AZ-104,AZ-303, etc. You will have option to choose Azure Pass based labs as well.
ii. Event type: Select any in-person or virtual option
iii. Time Zone: select the time zone you want to start the Lab.
iv. Time: set start time and end time of the labs.
v. Date: The workshop start date
vi. Days: How many days required for the workshop.
vii. City/Country: In which country the lab should be scheduled
viii. Request Code: Add your Request code.
ix. Notes: The Requester needs to add if they need additional time in the lab for instructors.
x. Expected Attendee Count: Add the no. of instances you want.
xi. Customer Field: Please mention Customer Name
xii. Duration: This will be automatically calculated as per no. Of days that has been mentioned on the Days field.
Click on the Submit button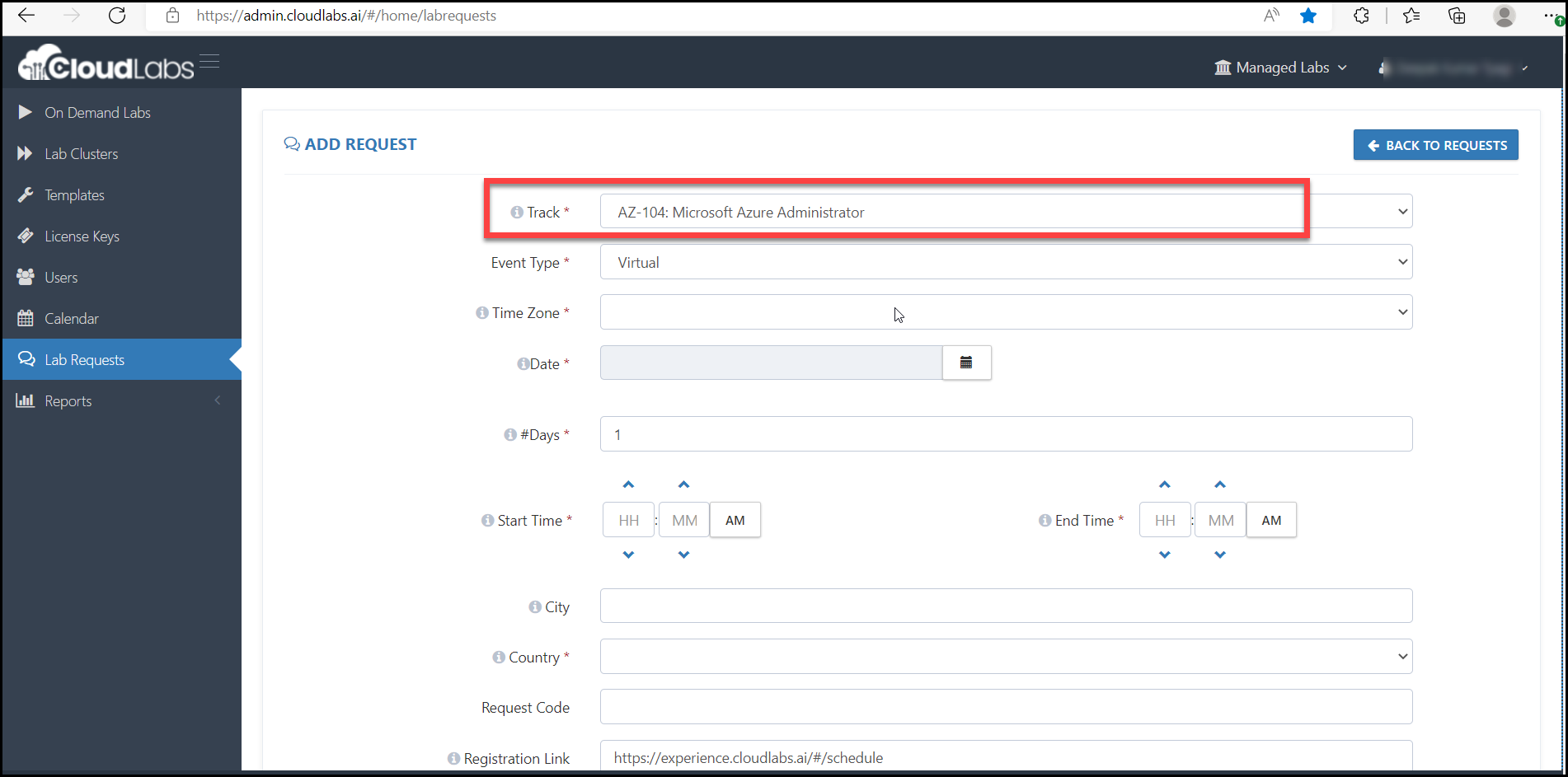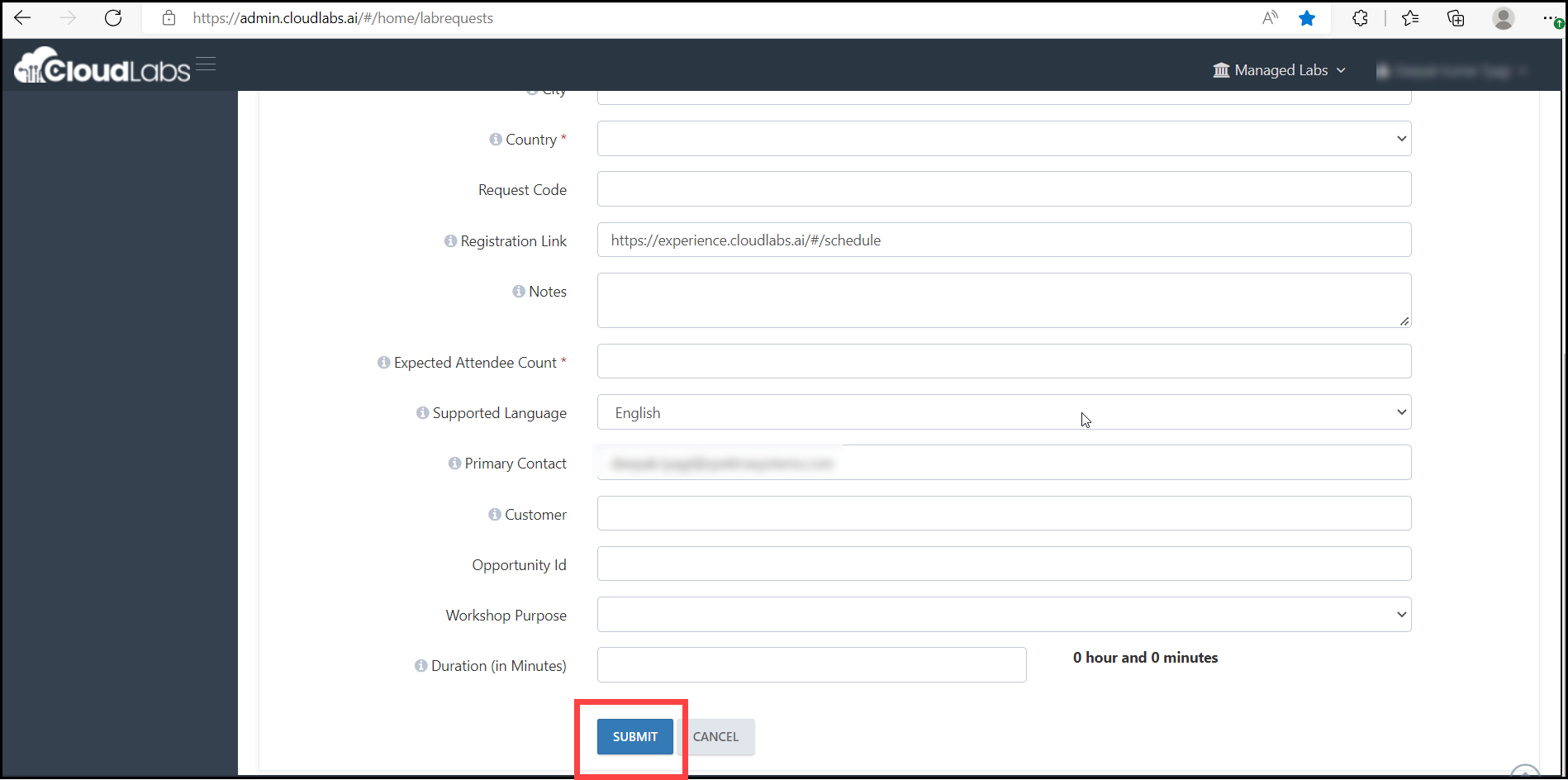 5.You can add an instructor to the lab request. You can also add multiple instructors if needed. Instructors will access enabled to Admin portal automatically for the assigned labs.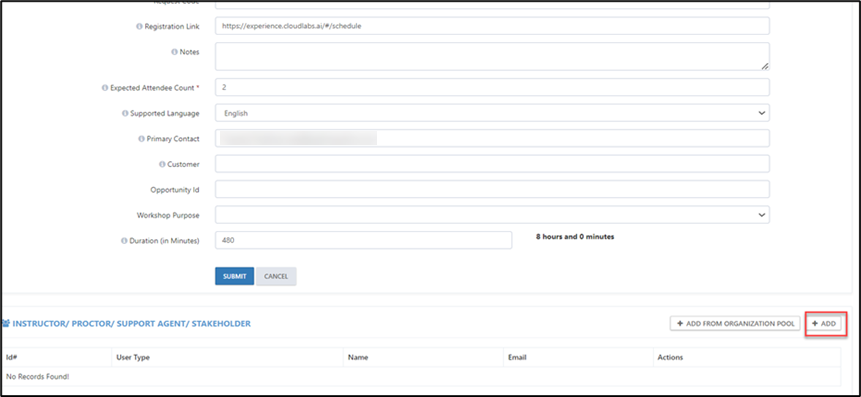 6.Your request is currently Pending approval. The CloudLabs order fulfillment team will review the request and contact you regarding the next steps for payments.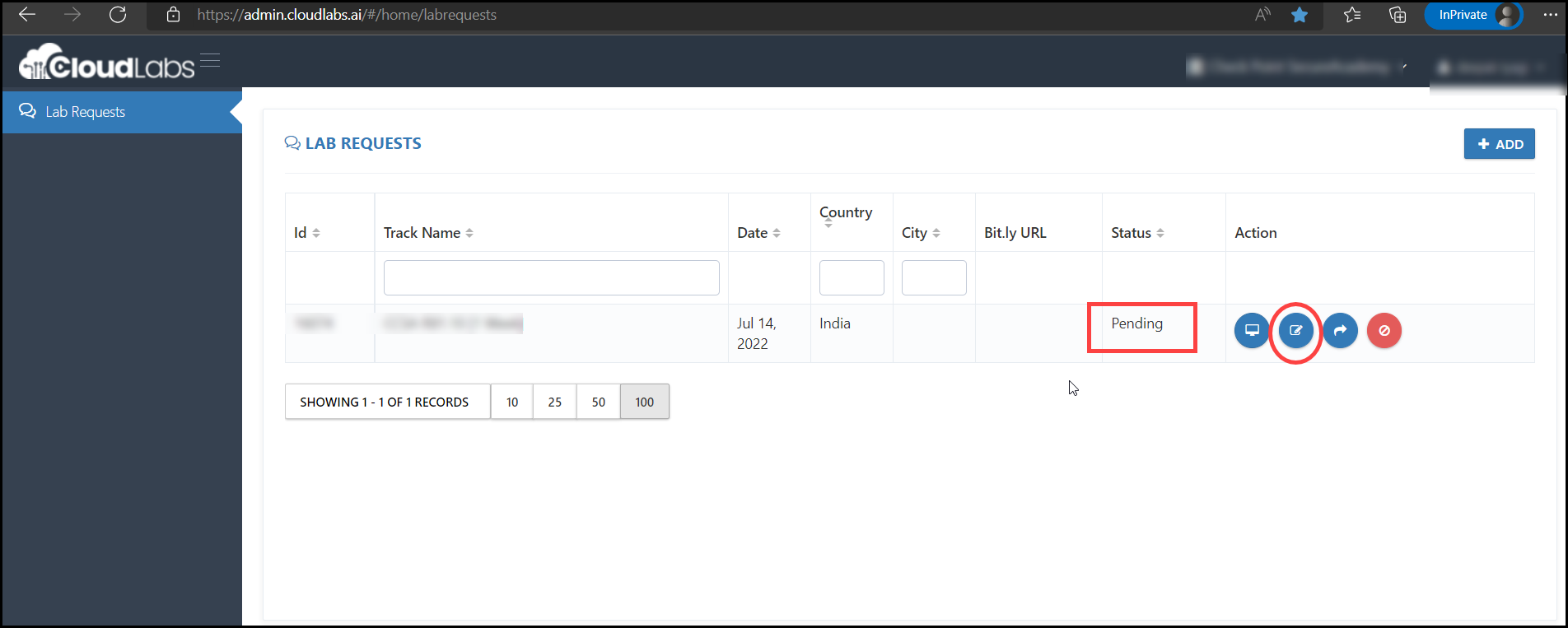 If you have a direct contract with CloudLabs for monthly invoice-based payment, your request will be approved within 24 hours without any further action required. If you would like to learn more about the contract for the monthly invoice-based payment model, please contact our Sales Team at psm-cloudlabs@spektrasystems.com.
Step-3 Make Payment & Get Lab Vouchers​
Once you have submitted the lab request, the CloudLabs order fulfillment team will get in touch with you and provide a payment link for your order. If you have a direct contract with CloudLabs for monthly invoice-based payment, this step will not be required.
After your payment is received, your lab request will be approved. 1.Now the request is in Approved state. Spektra team will schedule the Lab and share the activation details (Lab Activation URL for attendees and vouchers code) atleast one week prior to the workshop.

8.After lab request is approved, Navigate to On Demand Labs. Here you and assigned instructors will be able to see your lab details along with lab activation link and vouchers.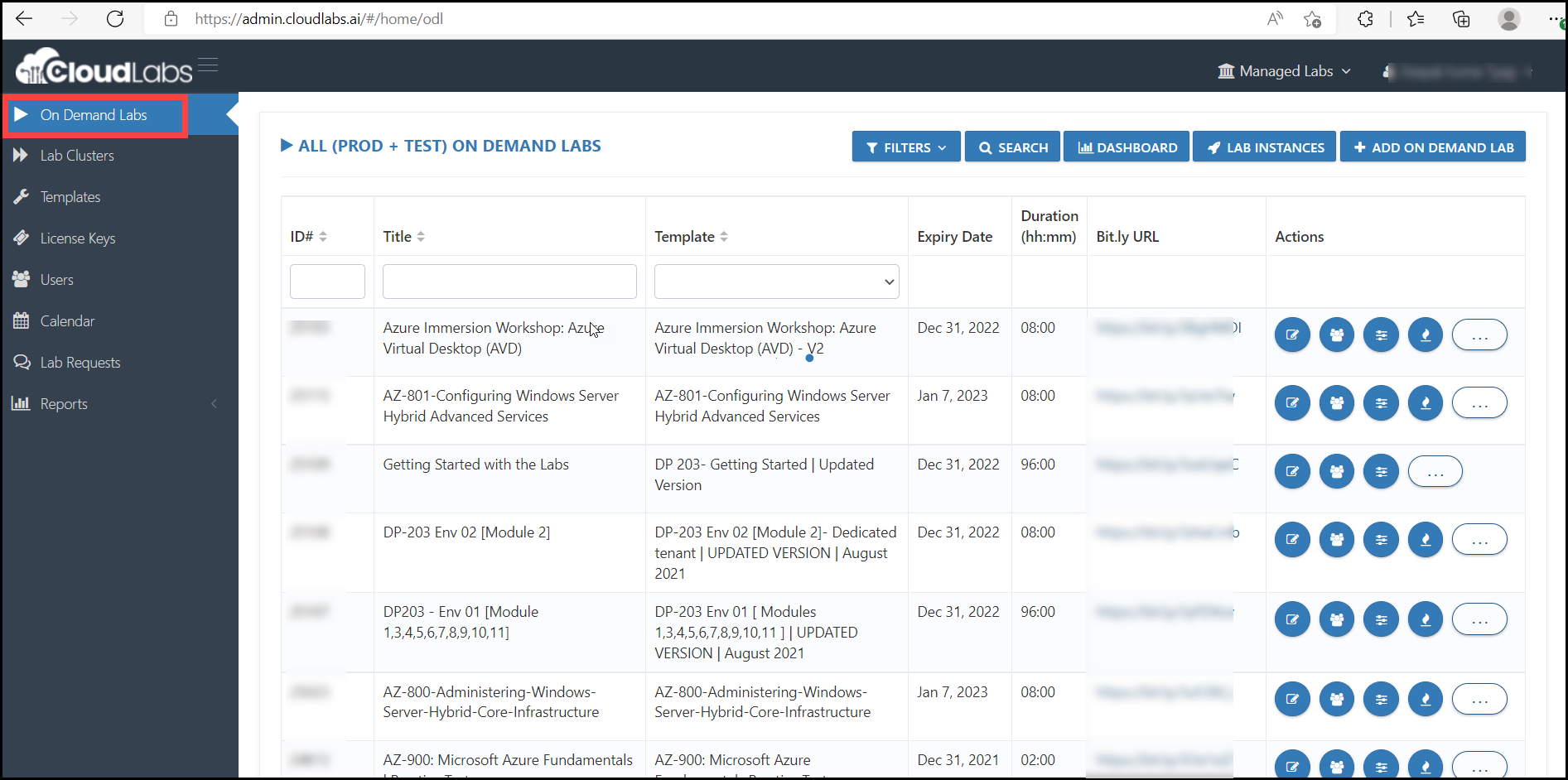 9.Learners can activate the labs from https://portal.cloudlabs.ai. Visit Learner Guide to learn more about learner experience
Support information​
Sales: psm-cloudlabs@spektrasystems.com
Technical Support(Email): labs-support@spektrasystems.com
Technical Support (Live Chat): https://cloudlabs.ai/labs-support